Page last updated 03/17/2017
This page will be updated right up to competition start.
2017 State Tournament:   Saturday, March 18, 2017
Location:
Southern Connecticut State University – See problem specific information pages below for specific parking and Prop drop points.

Program information:
Welcome to the 36th Annual Connecticut Odyssey of the Mind State Tournament! Our hosts are the administration, faculty and staff of Southern Connecticut State University (SCSU).
The CTOM Board of Directors, problem captains and judging teams are excited to have the chance to witness the results of what you have created, brainstormed, practiced, tested, designed and redesigned, built and rebuilt!
This web page has all the information you need to plan your tournament day.  Please share this information with any parents and friends who will be attending the tournament.
Contents
CTOM Tournament Program
Information Desk
Schedules, site locations and registration procedures
Campus map and prop drop-off locations
All Policies, including Chaperone,  Judges, Tribunal, Conduct and Trademark Usage
Photo Bomb CTOM!
Free admission for parents, friends and guests!
CTOM Marketplace – What's for sale?
Donations to CTOM, a certified 501(c)(3) not-for-profit organization
Food and Fun
Closing Ceremonies
Getting your scores
Scoring Room – why it takes so long to start closing ceremonies
Paperwork
New England weather
World Finals coach meeting
Comments – what went right and what can we improve upon
CTOM Tournament Program
Our 2017 CTOM Tournament Program can be found here.
Information Desk:
Engleman Hall, 7: 00 a.m. –  3:30 p.m.
Adanti Student Center, 7:00 a.m. – 3:30 p.m.
Note: team check-in will be at individual competition locations.
Schedule
The 2017 Competition Schedule, including starting times for long-term and spontaneous performances can be found here.  Please plan on being on campus at least one half hour before your earliest time.
Long-Term Problem Locations
Note: Team check-in will be at each competition location.  Only coaches may check-in their teams.
See the 2017 Competition Map for Competition Sites and Prop-drop Locations:
Problem
 Competition Location
 Problem 1: Catch Us If You Can
Div 1:  Pelz Gym A
Div 2 & 3: Pelz Gym B
 Problem 2: Odd-a-Bot
Engleman B121A/B
 Problem 3: Classics… It's Time, OMER
Div 1A:  Engleman C112
Div 1B:  Engleman A120
Div 2:  Engleman A120
Div 3:  Engleman C112
 Problem 4: Ready, Set, Balsa, Build!
Engleman D125
Weigh-in Room D122
 Problem 5: To Be Continued:
A Superhero Cliffhanger
Div 1A: Adanti Ballroom A
Div 1B: Adanti Ballroom B
Div 2: Lyman Black Box Theater
Div 3: Lyman Main Stage
 Primary: Movin' Out!
 Adanti Theater
Prop-drop Locations:
Prop drop signs are NYC-styled subway signs: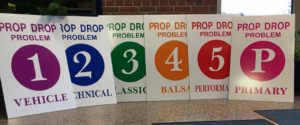 Check your number and sign color here:
Problem
 Sign Color
 Problem 1: Catch Us If You Can

 

 Problem 2: Odd-a-Bot

 Problem 3: Classics… It's Time, OMER

 

 Problem 4: Ready, Set, Balsa, Build!

Note: Updated due to snow.  Details here.

 

 Problem 5: To Be Continued:
A Superhero Cliffhanger

 Primary: Movin' Out!
Spontaneous Competition Site and Check-in Procedure
Location: Engleman Hall
Follow signs to the Spontaneous check in area on the second floor.  Please note, only teams and coaches permitted.
Sign in at the Spontaneous registration desk (Follow signs). Teams will then be directed to the holding room.
Once the team is escorted to the competition room, the coach will wait for the team's return in the debriefing room.
PHOTO-BOMB CTOM!!
We are collecting pictures for our annual CTOM slide show, so strike a pose, show off your creative powers, and make our teams laugh! We collect pictures during the year and during competition day. If you would like to have your team included, please send photos of your team in action to photos@ctom.org. We will accept photos until 2:00 p.m. on competition day. More information and legal terms can be found on the Photo-Bomb page!
Paper Work
Check the Program Guide and your long term problem – bring the required number of copies of the following for your problem. Check the special problem instructions for any additional requirements from your Problem Captain. Be sure to keep extra copies of your paperwork in case your team goes to Worlds! Here are the forms needed:
Style forms – All style forms have the same format and scoring structure (4 style elements and 1 overall style element).  Each problem has different style elements scored. Usually 2 selected for you in the long term problem and 2 free choice of the team. Refer to your long term problem scoring section and program guide for additional details.
Cost Forms – All cost forms have the same format but may have different amounts allocated depending on the problem. Refer to your long term problem and program guide for additional details.
Additional paperwork – Some long term problems require additional paperwork – check your problem for details
Clarifications – Any clarification that is relevant for your team's problem
Outside Assistance Form
Note:  Hold on to copies of all of these forms, for possible use at world finals!
Special Problem Instructions: 
If necessary, each problem captain will provide special instructions specific to each problem. Refer to your problem page here:
Directions and Parking
Address: Specific parking locations will be supplied based on the problem your team is assigned. See the problem page specific locations.  Parking Map can be found here.
Parking Lot GPS Addresses:
Wintergreen Garage – 23 Wintergreen Avenue
Fitch Street Garage – 525 Fitch Street
Main Lot – 377 Fitch Street
Lot 10 – 320 Fitch Street
Lots 12B, 12 and 5 – 501 Crescent Street
Parking: Parking is free. Park in only designated parking lots, garages and spaces. Do not park in any spaces reserved for Southern personnel, on any grassy areas, on the athletic fields or drive on campus paths.  Handicapped parking is available at all locations on campus. Please try to carpool as parking will be limited. Factor in 15 minutes to walk from parking to buildings in planning your arrival time.
Watch for directional signs outside the buildings.

REMINDER – do not park or leave your car unattended at the drop off sites. It will be towed.

When dropping off props the driver must not leave the vehicle even to assist in moving props indoors.   
After dropping off props all cars should be moved to an approved parking space.
Police will ticket violators.
Getting Your Scores
Every effort is made to keep the day's schedule moving and on time.  Coaches: your team's scores can be picked up at your performance site, if you provided a judge or paid the no-judge fee.  Each performance area will post team names and membership numbers when scores are ready.  At this point, you can meet with the Head Judge to receive your scores and performance comments.  If you do not retrieve your scores, they will be available upon request. All scores will be posted at ctom.org on Sunday.
Participation Certificate
A participation certificate identifying this year's problems and pins and acknowledging the efforts and creativity of your team members can be printed here.  Please note, in our efforts towards a "paperless" registration experience, we will not be providing hard copies of these certificates on the day of the tournament.
CTOM Policies
Please review the CTOM Policy Guide and discuss with your teams.  Questions should be referred to our Association Director.
Free Admission
Please bring your family, friends, teachers and your school administrators to cheer on your team.  We welcome any and all donations to help defray the cost.  Donations will be accepted at the CTOM Marketplace, or can be made at ctom.org using the donation button.  Thank you!
The CTOM Marketplace
Student Lounge – Engleman Hall,  7:30 – 3:00

Lyman Lobby, 4:00 – 5:15 at the Closing Ceremonies

 
Merchandise
CTOM 2017 Commemorative Tournament Tee shirts – $15
CTOM 2017 State Tournament Pin Set – $10
CTOM 2017 State Tournament Pin – $4
CTOM 2017 World Final Pin -$5
CTOM Tee shirts – $15
CTOM Tote Bag – $5
CTOM Lanyard $5
Payment for Merchandise and Donations
We will happily take cash, credit cards or personal checks made out to CTOM, Inc.
Drawing for the annual World Finals Pin Towel
Tickets for our annual pin towel raffle can be claimed by team members at the CTOM Marketplace.   Please fill out your name and phone number and place in the bucket at the merchandise table.  The drawing will be held at the closing ceremonies
Food, Food, Food
Dunkin' Donuts – Adanti Student Center, 7:00 a.m.   -2:30 p.m.
Food Court – Adanti Student Center, 10:30 a.m. – 2:30 p.m.
Menu details can be found here.  Cash payment preferred
Advance tickets for food ($7.50) can be purchased in Adanti, and Student Lounge – Engleman Hall to help minimize lines in the Food Court.
Scoring Room
At the end of the day, we need time for the last teams to pick up their scores and meet with the Head Judge or Problem Captain. We double check the scores for errors. We take this part of our job very seriously and have a dedicated team which works hard to make sure that the results are correct.  Thank you in advance for your patience awaiting the start of our closing ceremonies.
Closing Ceremonies
Entertainment:  Carnival Trio Caribbean steel band, 4:30 – 5:15
Award Ceremony: 5:15  –  6:00
Medals will be awarded to 1st, 2nd and 3rd place teams for each problem/division.
The Jill Riggles Award for Excellence in Spontaneous will be awarded to the teams in each problem/division earning the highest score in the spontaneous portion of the tournament.
Any Omer and Ranatra Fusca Awards will be given out after the team medals.
Reminder:   No food or drink will be allowed in closing ceremonies venue.  Ushers will ask you to finish your food/beverage prior to entering the closing ceremonies.
World Finals
Michigan State University, May 24 – 27, 2017
Information can be found here.
World Finals Eligibility
1st and 2nd place award-winning teams for each Problem/Division receive invitations to World Finals
Long-term and individual Ranatra Fusca award recipients also receive invitations to World Finals
Should a 1st or 2nd place team elect not to attend World Finals, the spot will be offered to the next available team.  All 3rd and 4th place teams should hold on to their props and costumes.
World Finals Meeting
There will be a mandatory planning meeting for coaches of teams selected to go to World Finals following the competition.  Details are available here.
New England Weather
In case of inclement weather, a message will be posted here and also on FaceBook with any changes to our schedule.
Comments
We welcome your comments on your team's experience at tournament and at all of our training activities. Please let us know what went right as well as what went wrong and your suggestions on how to improve our program.  A survey will be sent to all coaches after tournament.
Thanks to each of you for participating in this incredible program! Enjoy your day at the 36th Annual Connecticut State Finals.
Dave Schaller, President and Association Director
AssnDir@CTOM.org
Phone: 500-CTOM  – AreaCode: 570