"Odyssey is a fun and creative experience that lets you express yourself in new and different ways. It is fun and challenging, and I've made good friends along the way."
-CTOM student participant, 3rd, 4th and 6th grade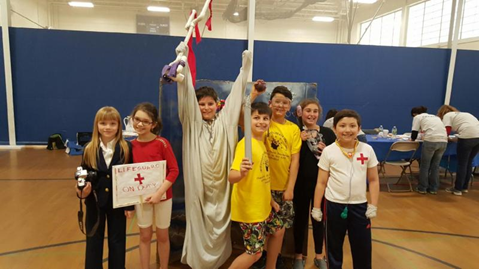 Student Responsibilities
Odyssey of the Mind (OM™) teaches students how to develop and use your natural creativity to become problem-solvers. Imagine being faced with a problem that requires an original solution. It can be frightening. Now imagine not being afraid to solve that problem – that is what OM members learn. This skill and self-confidence will carry over to all areas of your life. OM brings the classroom to life you apply what they learn and combine it with your interests and passions to solve our unique open-ended problems. OM also emphasizes teamwork, budgeting, time management, public speaking, and so much more. This international program is designed to help you at all learning levels grow as individual learners, grow as team members, and to reach your full potential.
No Outside Assistance
No Outside Assistance is the most significant concept that makes Odyssey of the Mind different from all other programs for children. Odyssey requires that, "team members must design and create ALL aspects of their problem solution."
When the students do all of the work, it levels the playing field, makes the competition fair. Kids compete against kids. How proud can the team be when they win, if adults did their work? It is often said that judges can tell Outside Assistance because adults aren't creative as kids can be. But, whether or not, judges can tell Outside Assistance, it is by the team doing the work themselves, that they grow in confidence and enhance their problem solving skills.
Children learn by doing. They are active learners who manipulate materials and play with them in order to understand. The process of 'doing' is often the most important part, not the product. The struggle to figure out a solution is critical to learning in Odyssey. If adults help bypass the struggle by providing the answer, much valuable learning is lost.
Benefits come from failure. Did you know that Thomas Edison developed over 1800 light bulbs before he found his ultimate solution? He knew where he wanted to go and he struggled to find a way to do it. Every failure adds to the final solution. Think about what the students learn when they persevere and find a way to make that device work. Odyssey is a process. It can take years for teams to develop the teamwork, the team personality and problem solving skills necessary to make it to the top of the Odyssey pile. The journey is often fun, long, hard, but worth it.
Joining a Team
Odyssey Teams are made up of up-to-7 students per team and are guided by 1-2 adult coaches. The competition division is determined by the grade of the eldest student on the team.
Divisions:
Primary- K- Grade 2
Division I – Grades 3-5
Division II – Grades 6-8
Division III – Grades 9-12
Check with your Town Coordinator or School for details of teams being formed in your area. If you cannot find a local contact, reach out to our Associated Director at assndir@ctom.org.