Congratulations DJ Morse, winner of a 2017 COU Scholarship!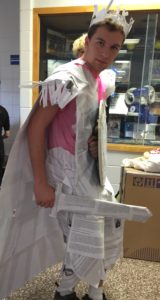 More details can be found here
Coaching Spontaneous – Training material now available
If you missed the training you can visit the Coaching Spontaneous page for the recording, presentation, and reference links.
Important upcoming dates and information 
Tournament Registration deadline – January 12th.
Avoid additional fees – Don't forget to find a Judge and Volunteer
Not sure if you have a judge or volunteer – Check HERE
Review payment policy to avoid late fees.
Local Spontaneous Scrimmages
Only a few spots left – sign up now.  Visit the Spontaneous Scrimmage page for more information.
Registration and Payment policy
CTOM has updated it competition registration and payment policy. All coaches should become familiar with the key dates and fees to avoid any surprises.
OM Deutschland
At Eurofest 2018 in Germany, Odyssey of the Mind will welcome up to 10 teams from the United States. Click here if you are interested.
CTOM Tournament Registration
Information on Registration can be found here
State Finals, March 17: Click HERE to register your team. Specific instructions can be found on the Steps to Register a Team page
Coach Training Open!
Coach Training registration is open! Visit the events pages for more information.
Are you interested in joining our CTOM network of volunteers?
CTOM is grateful for our dedicated volunteers  who help us at our events and behind the scenes.  If you're interested in participating, let us know how by filling out this survey.
Welcome to the 2017 – 2018 Program Year!
Congratulations to our Connecticut Teams!
Scores from the 2017 State Tournament can be found here!
Pictures from our 2017 Tournament can be found here.